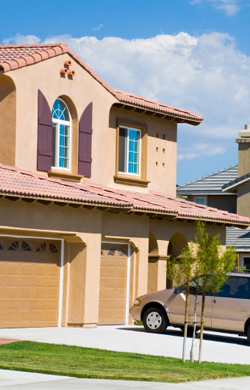 Q - What is foreclosure?

Foreclosure is the legal process of taking the home away from a homeowner to sell it and satisfy an unpaid mortgage debt.

Q - When does the foreclosure process start?

This depends on the type of loan the homeowner had and on what state the property is located in. It typically starts after the homeowner is served with a NOD.

Q - What is a NOD?

A NOD or a Notice Of Default is legal notice recorded at the court and sent to a homeowner who is behind on mortgage payments. It indicates the beginning of the foreclosure process.

Q - How much does CaliforniaForeclosures.com™ charge?

Not a penny. Our home-finder services are paid by the seller and free of charge to you. Plus you get a

$500 Rebate

within 15 days after the property you purchase closes escrow, or $250 on properties below $100,000.

Q - Who can start the foreclosure process?

The lender that holds the mortgage can start the process, also the state where the property is located can foreclose for unpaid taxes.

Q - How do I find a real estate agent with foreclosure expertise?

The CaliforniaForeclosures.com™ statewide network of licensed realtors are proven, experienced experts in foreclosures and their local areas. They know the different neighborhoods well and have the resources and local contacts to help you in your search. Most important, they will make you feel comfortable in each phase of the purchase process by answering all your questions, and providing all the knowhow and services you need.

Q - Is buying foreclosed homes or properties a good investment?

When you purchase a foreclosed home or property owned by a bank, you usually make a significant amount of money on your investment since you are paying a property price that is about 10% to 50% below the market value. So the minute you close the deal, your property has equity. However, if the property needs costly repairs or contains an occupant who refuses to leave, it may involve more expense or trouble – or both – than it's worth. That's why the free services of a realtor from CaliforniaForeclosures.com with years of experience and valuable expertise can help you make the best decision.

Q - Are there other ways to buy homes at below-market savings?

Absolutely, your CaliforniaForeclosures.com realtor, with up-to-date knowledge of their local real estate market, may have access to pre-foreclosure or MLS listings that are even better deals than foreclosures in the area.

Q - How do I find the market value of a home?

Your CaliforniaForeclosures.com realtor in the location you've chosen knows how much local homes are currently selling for. In addition, your realtor can research the "comps," which are closings of comparable homes in the same area, to make sure you're getting the most for your money.

Q - What about any outstanding liens against the property?

Using the street address and parcel number, your CaliforniaForeclosures.com realtor can check with county or state assessors to research for delinquent taxes or other liens against properties you are interested in.

Q - How can I find information on the property tax liability?

Your CaliforniaForeclosures.com realtor will provide the total amount of the previous year's property taxes in the listing information. Since property tax rates can change from year to year, these figures may be approximate.

Q - What other tax issues should I take into consideration?

All your mortgage interest and real estate taxes will be deductible. In additional, your CaliforniaForeclosures.com real estate professional can give you more details on other tax benefits and liabilities.

Q - How do I make an offer on a foreclosed property?

Your CaliforniaForeclosures.com realtor will assist you in making an offer to the seller which will include the following:

Complete legal description of the property.
Amount of earnest money.
Down payment and financing details.
Your proposed move-in date.
Price you are offering.
Proposed closing date.
Length of time your offer is valid.
Specific details of the deal.

Remember, a firm Sale Commitment depends on negotiating a satisfactory contract with the seller, not simply making an Offer.

Q - What should I look for when deciding on a community?

Try to select a community that will allow you to best live your daily life. Many people choose communities based on schools. Do you want access to shopping and public transportation? Is access to local facilities like libraries and museums important to you? Or do you prefer the peace and quiet of a rural community? Once you decide on an area that you like, your CaliforniaForeclosures.com realtor can put you in contact with people who already live there. They know the most about the community and will be your future neighbors. More than anything, you want a neighborhood you feel comfortable in.

Q - Is an older foreclosed home a better value than a new one?

That depends. You should look at each home for its individual characteristics. Generally, older homes may be in more established neighborhoods, offer more ambiance and have lower property tax rates. People who buy older homes, however, shouldn't mind maintaining their home and making some repairs. Newer homes tend to use more modern architecture and systems, are usually easier to maintain, and may be more energy-efficient. People who buy new homes often don't want to worry initially about upkeep and repairs.